RPR (VDRL) Test Kit (For Syphilis )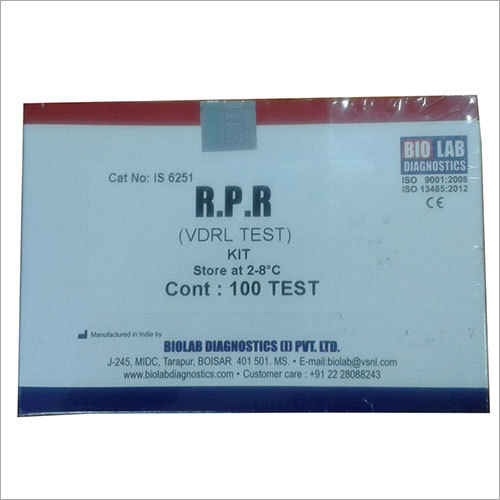 RPR (VDRL) Test Kit (For Syphilis )
Price And Quantity
Box/Boxes

1000.00 - 850.00 INR
Product Description
The Rapid Plasma Reagin (RPR) test kit, also known as the Venereal Disease Research Laboratory (VDRL) test kit, is a diagnostic test used to detect antibodies to the bacterium Treponema pallidum, which causes syphilis. The test kit is used to screen individuals for syphilis, and can also be used to monitor the effectiveness of treatment.
The RPR test kit is a simple, qualitative test that detects the presence of antibodies in a patient's blood serum. The test works by detecting the presence of antibodies that are produced by the body in response to the T. pallidum bacteria.
To perform the RPR test, a small sample of blood is collected from the patient and added to the test kit. The test kit contains a card with multiple circles, each containing a reagent that reacts with the patient's blood serum. The test kit is read after a specified period of time, and the presence or absence of a reaction in each circle is noted.
A positive reaction on the RPR test indicates the presence of antibodies to T. pallidum in the patient's blood serum, which suggests that the patient has been exposed to the bacteria that cause syphilis. Further confirmatory testing is usually required to confirm a diagnosis of syphilis.
The RPR test kit is widely used in clinical and public health settings as a screening tool for syphilis. It is a simple, low-cost, and effective tool for identifying individuals who may be infected with syphilis and need further evaluation and treatment. The test is also useful in monitoring the effectiveness of treatment in individuals who have been diagnosed with syphilis.