About Us
Laboratory Reagents, kits, consumables and & other items are required to be of high quality & consistency in quality in order to produce Accurate results in IVD Tests, Pathology Diagnostics tests & Research. BIOLAB DIAGNOSTICS (I) PVT LTD is working as DEDICATED & PROMINENT MANUFACTURER to manufacture ACCURATE, HIGH QUALITY KITS, STAINING KITS & PATHOLOGY REAGENTS.

We, BIOLAB, are bringing high-quality laboratory products in the market which are easy to use. Some of our widely appreciated products are RAPID COVID ANTIGEN TEST KIT, RAPID PAP STAIN KIT, RAPID SICKLE CELL TEST KIT, RAPID WIDAL TEST KIT, RAPID H&E STAIN KIT, BLOOD GROUPING REAGENTS, LATEX SLIDE TEST KITS like ASO-CRP-RA/RF & DIAGNOSTICS TEST KITS.

Our area of manufacturing & supplying covers INVITRO DIAGNOSTICS that consists CHEMISTRY REAGENTS, PATHOLOGY REAGENTS, STAINING KITS, DRY CHEMISTRY URINE ANALYSIS STRIPS, HISTO - CYTOLOGY PRODUCTS, IMMUNO - SEROLOGY PRODUCTS, LABORATORY REAGENTS, RAPID KITS & REAGENTS, STABLE LIQUID REAGENTS, STAINS & some UNIQUE PRODUCTS manufactured from HIGHEST QUALITY IMPORTED RAW MATERIALS that are being used in Hospitals, Pathology Laboratories, Research Institutes & Clinics having CE, ISO, FDA, FSC & Other Certification.

The professionals, be it National OR International working in the healthcare industry have appreciated our quality of our products & ease of doing business with them. Being a DEDICATED IVD MANUFACTURER, BIOLAB has always met customer's expectations much more precisely then any other in the market. That always put BIOLAB as their preferred supplier for their requirements.

ENRICHED WITH INDUSTRY KNOWLEDGE
As BIOLAB is more then THREE DECADE in Manufacturing & the owners are professionals form the Medical field, we have been meeting the market requirements with our product range and maintaining the quality of standard by updating it regularly as per international standard requisite.

Our highly experienced team of Researchers, Manufacturing professionals & Marketing Professionals possess deserving knowledge of each area of market with international standard practice.

All manufactured items, be it Pathology reagents, Rapid Kits, Staining kits serves it purpose very Accurately. We at BIOLAB always updated ourselves with Standards, Quality and Requirements of the market.

Our Focus Areas

This is our undying effort for Quality & Customer satisfaction that we have achieved this position in the industry. There are many factors associated with the level of success that we have achieved today. And, one such factor which is keeping us resolute is our set of focus areas; which includes:
To procure best of the possible quality raw materials.
To be updated with international quality standards.
To fulfill customer requirement with satisfaction.
Never to forget old customer while making new.

"We are mainly looking for Bulk Order Inquiries"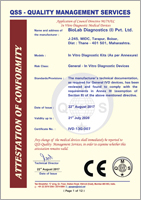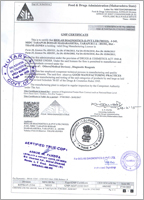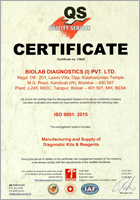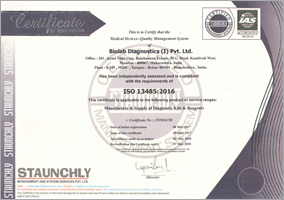 Read More